---
April 12, 2021
NEWS OF THE MONTH FROM THE TARRYTOWN ENVIRONMENTAL ADVISORY COUNCIL
APRIL 2021
WHAT WE'RE TALKING ABOUT
_____________________
This month, we've broken ground on a native plant project on the grounds of the Warner Library, so we're in a celebratory mood! We're planning events for April and May to celebrate Earth Day. Spring's here, so we're thinking of homegrown tomatoes, Vegan cooking, sleeping outside in a lean-to, and that fresh laundry smell. We're seriously looking forward to a River Sweep this year, 'cuz it's out on the water! Set your compost up to get picked up, then grab a glass of wine and come to our (Zoom) meeting. It's Thursday night! (See the end for the link.)

MANY HANDS
TARRYTOWN'S NEW GARDEN
____________________________________
DIGGING IN FOR POLLINATORS

Lots of hands and spades at the ground-breaking and construction of the new pollinator garden on the Warner Library grounds.
This week TEAC, in collaboration with Friends of the Library, Rey Insurance and dedicated volunteers, broke ground on a 15' x 10' native plant garden.
This demonstration garden will benefit pollinators and residents alike. For our pollinators it will create much needed habitat and food sources. For our residents it will bring joy and awareness of the vital role that pollinators play within our ecosystem.

The site plan for the garden includes native mint, grasses, and red-twig dogwood for structure.

The terraced beds. On to planting!
Earth Month 2021 – TEAC Plans Are Shaping Up!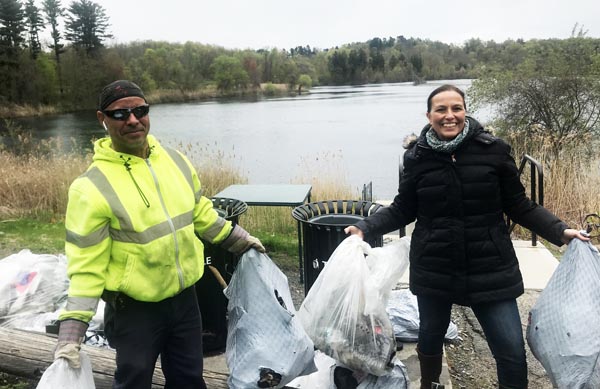 TEAC is planning a series of actual, in-person outdoor activities for April and May this year, beginning April 17th, running through the following week (Earth Day itself is April 22), and into May. These details are still being finalized, but check the TEAC website page HERE for updates. Soon we will post info on how to register and join these efforts to improve Tarrytown's environment.
Sat, April 17 (rain date 18th), 10am-2pm: Trash Clean-up (with the Lake Keepers) and Invasive Vine Removal at the Tarrytown Lakes; Meet at the Lakes parking lot on Neperan Road and Sunnyside Ave.
Sat, April 17, 9:30-1pm: Clean-up at Neperan Park (with the Little Gardens of Tarrytown)
Sun, April 18, 11am: Cleanup at Patriots Park with the Girl Scouts
Sat, April 24, 9:30-11: Mushroom Walk around the Lakes (small fee for naturalist)
Sat, April 24: Found Fairy Houses at Neperan Park
Sat, May 1 (rain date May 2), 9am-12pm: Kayak clean-up of the Hudson shoreline, in cooperation with Riverkeeper – On the River for those with their own kayaks, or on shore along Losee Park.
Sun, May 16th: Clothing and Housewares Swap at the JCC – Still in planning
Sat, May 22 (Rain date 23): Planting of a Pollinator Garden at Warner Library, as well as creating a Children's Garden
We will update our website as more information becomes available.
KEEP THE MOWER IN THE GARAGE:
TRY NO-MOW MAY
____________________________________
No-Mow May: Help Our Fragile Pollinators
By Mai Mai Margules
Spring is here and it's wonderful to be outdoors working in our gardens and yards.
It's also a good time to take steps that will help pollinators as they emerge from hibernation.
In these early spring days some of the best actions we can take are actually non actions. Until temperatures are consistently over 50 degrees leave some leaves in your perennial beds and borders as well as plant stalks from last year, these provide shelter for beneficial insects during fluctuating weather.
Enjoy discovering new plants as they emerge and please leave the clover, native violets and dandelions that are often the first to pop up in our lawns. These common early plants provide a reliable food source for pollinators and have given rise to a campaign called No Mow May.
No Mow May is a movement that exists to help our fragile pollinators. The basic premise is to delay mowing for one month in early spring to allow pollinators, especially native bees, to find adequate food sources.This gives nectar bearing plants that are unable to bloom at shorter heights a chance to flower and provide nutrients to pollinators.
By waiting a few weeks, plants have a chance to bloom, provide food and reseed for the next season. If they are sheared off before the seeds ripen we have lost another link in the biodiversity chain.
In a pilot program in Appleton, WI there was a fivefold increase in bee abundance and a threefold increase in bee diversity among participants who delayed mowing compared with nearby parkland that was mowed regularly. Similar results have been reported in towns across the country and internationally.
For homeowners it is a new way to think about lawn care, For years many people have followed the unwritten rule that lawns should be mowed once a week. By spreading the word that later mowing can really help our local pollinators we hope to change this practice and help boost biodiversity in our community. If someone cannot commit to an entire lawn they can set aside a smaller area as a no mow zone
No Mow May is a concept that can be tailored to fit different areas.. In today's world where global warming is impacting our weather it may mean delaying mowing till mid May.  In the South it is No Mow April.l.
The goal remains the same, to provide food for pollinators in early spring.
https://ronproject.com/no-mow-may-campaign/
#counteveryflower #nomowMay
COME AND GIT IT
Grow Your Own 1:1 Tomatoes!
____________________________________

By Dean Gallea
An article by Vaclav Smil in the March issue of IEEE (Institute of Electrical and Electronics Engineers) Spectrum Magazine analyzed the energy costs of tomatoes. A tomato grown locally without chemical fertilizers and pesticides provides about the same amount of food energy (calories) as the energy it took to grow and harvest. They call that a "1:1 tomato".
But, the author says, "increasingly, store-bought tomatoes are grown not in fields but in greenhouses… Here the energy cost of production is substantially higher. Direct energy inputs include electricity, gasoline, and diesel fuel; indirect energy costs involve the production of fertilizer (particularly nitrogen), pesticides, fungicides, and plastics and metals…"
A tomato commercially-grown in a heated greenhouse may need 25 times the food energy it contains to grow it. And if you add transportation and distribution costs, the total energy cost can make it a 1:40 tomato: Imagine a 5-ounce tomato needing the energy in half a cup of diesel fuel just to get it to your table!
Fortunately, we can grow energy-efficient, 1:1 tomatoes in our own gardens, or in a community garden. We can also get them from our local Farmers Markets in season. Olive Oil tastes much better than diesel fuel on our salads!
SPRING CLEANING
Zero Waste Swaps
____________________________________
By Annie Kravet
What better time than Spring to make some lifestyle changes to reduce plastic waste? 
Cutting back on the amount of single-use plastics we use on a daily basis is a small but powerful way to take care of the earth and ourselves. Here are some simple changes you can make to your daily cleaning routines to move away from the throw-away culture towards a zero waste lifestyle.
DISHES:
Make sure to use what you have before going out to buy anything new. Once your bottle of dish soap is running low, consider bar soap as a replacement. There are companies now that sell blocks of soap that are specifically for dishes, but a plain old bar of castile soap will work just as well.
Here's a trick to extend the life of your bar soap: criss-cross rubber bands over your soap dish and sit the soap on top. Your soap will stay dry and happy! If you don't have a soap dish, no need to buy one; you can use a medium or large lid from a jar.
Bonus: Also consider replacing your hand soap and shampoo with bar soap! Many companies now sell shampoo and conditioner bars.
LAUNDRY:
Most laundry detergent is sold in large plastic jugs, but it's easy to replace these with a simple homemade laundry powder. There are many different recipes for DIY laundry powder that you can find with a quick google search, but I have been using this simple one for years:
1 bar of castile soap
1 cup baking soda
1 cup washing soda
½ cup powdered citric acid (optional)
A few drops of your favorite essential oil (optional)
Shave the bar soap using a food processor or by hand with a cheese grater. Mix all ingredients together in a large bowl, and store in a container with a lid. Use 1 – 2 tablespoons per load. You should be able to find most of these ingredients at the supermarket, and they will be sold in paper boxes which are much gentler on the environment than plastic.
Ready to do even more to reduce waste? We will be sharing more zero waste tips and tricks on the TEAC facebook and instagram pages all month long.
YUM!




Vegan Recipe of the Month


By Cari NewtonYou can make a big impact and celebrate Earth Month by choosing a plant-based meal! You can achieve this by participating in Meatless Mondays, try eating only vegan on weekdays or take the plunge and completely switch to all plant-based food. By omitting meat and diary from your diet, you are helping to conserve water, protect land, and eliminate some of the 3 main gases responsible for global warming (Carbon Dioxide, Methane, Nitrous Oxide).Every day that goes by, it gets easier to go plant based. There are increasingly more products and resources available for vegans now than ever before! There is a big online and social media presence including support groups for
newbies. A great way to start out is to find yourself an experienced vegan that is willing to be your "mentor" to help answer any questions you may have and give you the scoop on product & recipe recommendations.  As always, your local library is a great place to try out new vegan cookbooks!Photo by: Post Punk Kitchen theppk.comThis month's recipe comes from one of my most favorite Vegan cookbooks Veganomicon by Isa Chandra Moskowitz & Terry Hope Romano.  You can find the recipe online at Isa's Post PunK Kitchen Website:  https://www.theppk.com/2017/09/baked-potato-greens-soup-with-potato-wedge-croutons/  Sometimes, when I am in a hurry, I make this soup without the extra step of making the potato wedge croutons, but they are SO GOOD with it!!! Enjoy!
GET OUTSIDE
GIVE YOUR CAMPING SKILLS A SPRING SHAKE-DOWN
____________________

Lean-to Number 5 in Ward Pound Ridge Reservation, in Cross River.
By Suzy Allman
A lean-to is a wonderful thing. Not quite a cabin, but not exposed to the wide open night sky, the three-sided lean-tos you find in parks and preserves gives you just enough primitive shelter to keep the camping experience authentic and down-and-dirty.
The lean-tos in Ward Pound Ridge Reservation are a gift from history. Some, built by the CCC during the Great Depression, are large enough to accommodate up to 8 campers. Most have interior fireplaces — some have two! — and dirt floors, but also picnic tables and fire rings.

At the first sign of warm spring nights, I like to give my backpacking equipment a shake-down: see what I have, what I need, and what needs repairing. I find the lean-tos at Ward Pound Ridge are the perfect place for this. Not too far, and you won't be addled by the black flies of the Adirondack spring.
The lean-tos are scattered around the 4,315-acre park, with most of them clustered on Pell Hill. I love old Number 5 (pictured), with its broad view of the meadow and clear, open, starry nighttime sky. Others are set deep in the woods. Most of them are sited so you can drive your car right up and unpack your things.
There is a $50.00 fee ($40.00 if you have a County park pass) to stay in a lean-to at Ward Pound Ridge Reservation. The lean-tos cannot be booked online, and the park doesn't accept credit cards, so you'll have to either reserve ahead of time in person, or arrive with a check or cash.
A classic Adirondack lean-to on Lake Colden
These are great places to experience solitude and scenery without having to drive too far. If you have kids, bring them along! Introduce them to lean-to camping locally. Real adventure awaits in the Catskills, Adirondacks and Harriman State Park lean-tos once they get a taste for this classic, rustic style of sleeping outdoors.
Two lean-tos in the Adirondacks: The West Canada Lake lean-to (left) and a Pharoah Lakes lean-to. The only cost to staying is the hike in.
Big Hill Shelter in Harriman State Park. Once the kids get their "lean-to" legs at Ward Pound Ridge, take them for an overnight at a lean-to in Harriman. They'll have to hike in, but the views and the twin fireplaces are worth it.
SAVE THE DATE


CALLING ALL KAYAKERS: RIVERKEEPER RIVER SWEEP: MAY 1ST




_____________________
PUT THIS ON YOUR CALENDAR: The Village of Tarrytown is looking forward to the annual Riverkeeper Sweep Cleanup on May 1st, 2021. It will be held from 9am to 12pm. 
This year we are planning a water-bound cleanup for experienced paddlers who have access to their own boat. Please contact us at tarrytownenviro@gmail.com to register.
WHAT A WASTE!
FOR THE GARDEN
_____________________
WHY NOT?:
Local Curbside Composting Service
________________________
Still waiting for curbside pickup to recycle your food scraps?
Hudson Compost Services, an independent local company founded by now-graduated Hastings high school students is coming to Tarrytown!
For $5/week with an annual agreement, or $6/week with a monthly agreement, they will pick up your food scraps in the bins they provide.
Check out their website to learn more at hudsoncompost.com or send questions to  support@hudsoncompost.com
Recycle Right: Dos and Don'ts
Do:

Rinse empty cans, bottles, jars, containers 
Sort everything. Seperate paper/cardboard from glass, plastic, cans. Remove labels from jars and cans when possible. 
Look for recycle #'s 1-7. If no #, the item is probably not recyclable
Place items in plastic tub or other medium sized bins
Recycle milk cartons and boxed beverage container with glass/metal/plastics. For bag-in-box wine, remove plastic lining and recycle with plastic bags/films at grocery store and recycle carton with cardboard.
Keep paper and cardboard dry
Recycle rinsed used aluminum foil
Don't:
Don't place items in plastic bags
Don't place plastic, glass, cans in paper bags
Don't include non-container like glass (drinking glasses, bowls, window panes, etc)
Don't include any styrofoam products or any kind (when if they have a recycling emblem), paper lined with plastic or teflon (hot cups), compostable plastics
Don't put soiled napkins, pizza boxes or paper plates and recycling, they can be composted
Don't put plastic bags or plastic films in curbside recycling (bring to Stop and Shop, Home Depot or your nearest dropout)
Check out the Recyclopedia to look up specific items and print out this easy poster to keep on fridge or near recycling area. https://environment.westchestergov.com/images/stories/pdfs/RecycleRight5x7lpf.pdf
LOVE YOUR VILLAGE




JOINING TEAC IS EASY. JUST COME TO A (ZOOM) MEETING.




________________________

TEAC relies on volunteers to keep things moving, and we usually meet on the 1st Thursday in Village Hall, One Depot Plaza, at 7:00 PM.In light of the pandemic, we've moved our monthly meetings online — Zoom-style for now — so you can still pitch in. The next regular TEAC meeting will be on THURSDAY, APRIL 1, 2021. The meetings are open to all.To join the meeting, launch your Zoom app, then use the following login credentials:Join Zoom Meeting
https://us02web.zoom.us/j/88350148950?pwd=VmxDc1hDZFkrMVpmZFlnc2tZbUFRZz09Meeting ID: 883 5014 8950
Passcode: 527878
"I'd put my money on the sun and solar energy. What a source of power! I hope we don't have to wait until oil and coal run out before we tackle that."
– Thomas Edison, in conversation with Henry Ford and Harvy Firestone, 1931
Advertisement
December 7, 2021
By Barrett Seaman-- Oftentimes, when Tarrytown's trustee meeting room is packed with people, it's because some controversial issue is on...
Read More
Print